Novelties
Olfa's novelties
SK - 15
Disposable small knife with concealed blade for ultimate safety. No blades will get lost at workplaces. Its open channel design and stainless steel blade make the SK-15 easy to wash and NSF certified. 10 knives in a plastic bag.

XMT - 1
The 12.5mm X-design handle, a combination of elastomer and glass-fiber-reinforced polypropylene, is chemically resistant to paint. It features a built-in hard metal pick which opens paint cans, removes plate covers, and cleans out caulk. Feel the Power of X.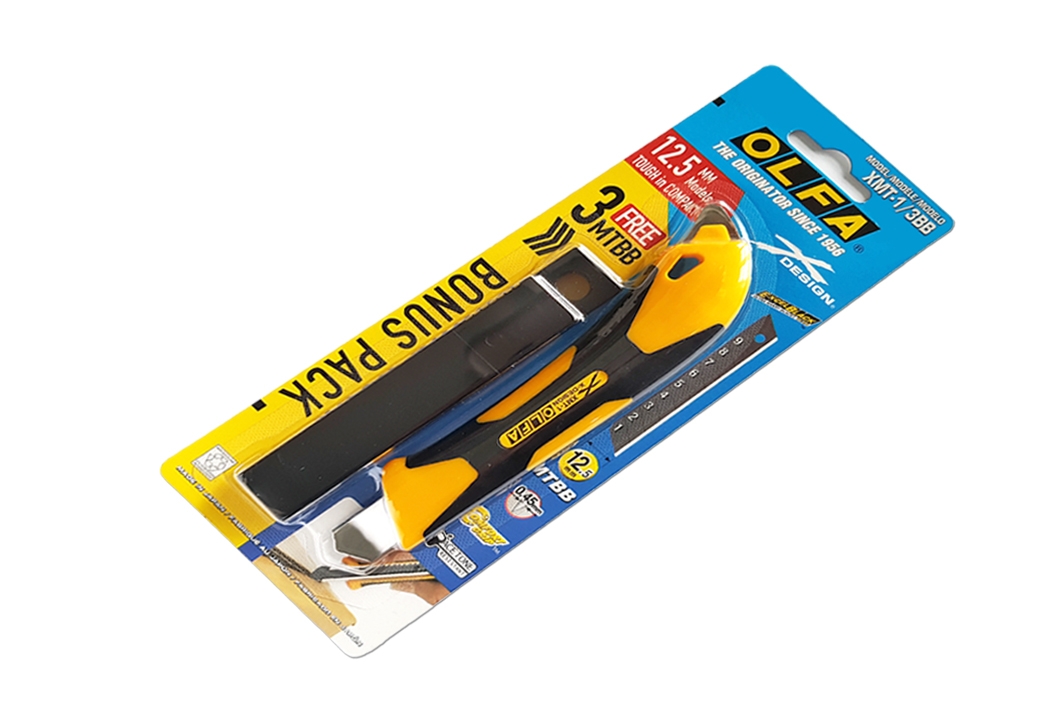 ESK - 1
This entry level type of the snap-off blade utility knife can be your possible first utility knife. Plastic covered blade minimizes blade exposure, and makes it look safe, natural and comfortable. To snap off use the dedicated white egg-shaped blade snapper. Though in Japan the ESK-1 was unveiled as the Kids' Cutter Kitter, it could be an educational safety knife to all ages, as well as in classrooms!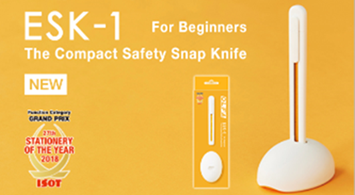 RB60H - 1
OLFA Endurance Blade "RB60H", with its amazing long-lasting sharpness, outwears the standard RB60. 1 rotary blade in a plastic case. Blister packed.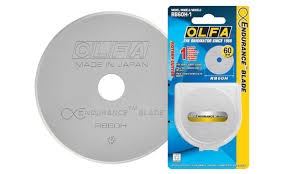 PRC - 3/C
Featuring a 28mm deep-serated edged alloy tool steel blade, the PRC-3/C will be most welcomed for frequent users of perforated cutting. Easy blade change with just a click.

RTY-2C/PIK
This 45mm rotary cutter has changed the quilting and sewing industry. The most popular size available, this cutter features a durable handle with a blade cover for safety. The cutter is a rolling razor blade used to cut materials into shapes, strips and pieces for sewing, quilting and craft projects. The blade is made of high quality tungsten carbide tool steel for unparalleled sharpness and superior edge retention. Designed for both right- and left-handed use. Satisfaction Guaranteed. Available as from end of June 2018, and for a limited time only as it is a limited edition !

RTY-2C/Yellow
After the succesful introduction of the aqua blue RTY2C, it is time to proudly introduce you the RTY-2C in the well known yellow colour. As from now, this 45mm cutter can be delivered from stock.

RTY-1/C
Goodbye to the RTY-1/G, and a warm welcome RTY-1/C. After many years of service an end has come to the RTY-1/G era. It's successor is already on it's way to Europe and will be available as from mid 2018 (after stock of RTY-1/G is gone. Like it's big broter RTY-2/C, the RTY-1/C is also equipped with the easy-blade change system.


Foldable cutting mats (FCM serie)
Available in inches (12x17 & 17x24) and centimeters (A2 & A3). For more information, check below.